Introducing . . .
Isotec Security's IQ System
IQ is the fastest and most economical way to upgrade NovaComm's Mark III or
Mark IV models and existing Isotec Security Entrances.
IQ's universal architecture and adaptability can also serve as the electronics foundation for converting any vestibule area into an
interlocking door system. IQ incorporates Isotec Security's Programmable Logic Controller, Color Touchscreen Console, Power
Supply, and Associated Cables. A Step by Step pictorial installation Manual is provided. Installation and testing takes less than 2 hours.
System Components:
IQ Controller Assembly
10"x14"x6" Enclosure with Hinged Cover
Isotec Interface Mother Board
PLC Controller with two expansion modules and internal cables
UL Listed Emergency Release Board
Touchscreen Console Model WC700 with current Software
Power Supply 24VDC @ 6Amp rated UL Listed with 6' cable
Interconnect 100' Cable, Plenum Rated
Intercom 9' Cable (for use with existing Aiphone Intercom)
Wireless Receiver 12' Cable (for use with existing Linear Receiver)
Mark III Connector Installation Kit
Installation and Maintenance Manuals
1-Year Warranty for IQ parts and components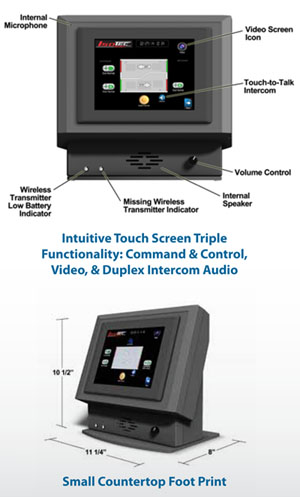 Security
Develop technology based solutions to protect and keep safe the innocent,
the unknowing, and those charged with their safety.
Synergy's functionality includes Isotec's proprietary Ultra-Black high resolution
color touch screen; with command & control, video, and touch-to- talk audio in
one platform. Synergy's features provide complete operator utility;
requiring minimal or NO counter space.
Features
Larger 8 ½" Diagonal Touchscreen
Ultra-Black High Resolution
Voice Prompt Alerts
ADAAG or ANSI Screen Configurations
System Logging Functions
Built in Diagnostics
Multiple Consoles (Optional)
Docking Station Portability (Optional)
Embedded Media Switch (Optional 5 Cameras & 3 Intercoms)
Wall Mounting (Optional)
Product Support
Online Training with Isotec Engineers for Operational Demonstrations
End User and Technician Manuals Provided